News
ELA Awards 2023 – December 12, Paris
Event organized with the support of France Supply Chain by ASLOG - December 12, Paris
The "ELA Awards" has become one of the most prestigious and important European logistics competition and is much sought after by companies throughout Europe. Its recognition of outstanding performance is highly valued by both previous winners and would-be winners alike. During an afternoon conference a number of 6 final projects are presented for the invited guests. 
ELA invites "The best of the best" European logistics projects to the European Award for Logistics Excellence according to the "Champions League System". Each association is entitled to only one submission, the winner of the national competition. Hence the most remarkable logistics achievements implemented throughout Europe will be competing for the award while being submitted to an international jury consisting of high-ranking SCM/logistics experts from the fields of trade, industry, consulting, logistics services and science.  
The jury evaluates the projects according to a structured multidimensional evaluation grid.
Deadline for submitting projects: July 31, 2023.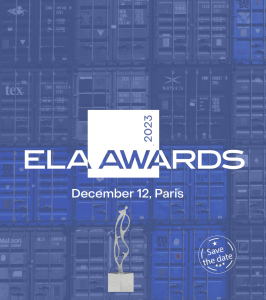 Next steps:
Step 1 – Projects: Please make sure to submit your nominations not later than on Monday, July 31, 2023. 
Step 2 –  Results: The results from the jury will be made available on September 29, 2023.
Step 3 – Finalists: The TOP 6 finalists will be announced on October 6, 2023. 


Step 4 – Awards ceremony: Book your day – December 12, 2023, for a lovely trip to Paris. Details about registration for the gala will be available soon
Feel free to contact us for further details: ela@elalog.org