EUROLOG addresses the 6 driving levers to build agile, resilient and sustainable supply chains
The ELA's annual congress returns to SIL Barcelona for its 25th anniversary with the Centro Español de Logística.

Big Data and analytics; automation and robotics; risk management and cybersecurity; sustainability; collaboration between supply chain actors; and talent make up the 6 levers of the CEL.

We are at a key moment to ensure the future competitiveness of logistics activity, where associations take on a more relevant role as generators of knowledge and as a meeting point between the professionals in charge of this redesign", Ramón García, general director of CEL.
Click HERE to read the press release of the event.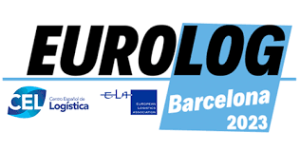 Concept of the event
EUROLOG is an annual international congress of the European Logistics Association
to promote dialogue between ELA members, in particular the national organisations, on a neutral platform,
to provide a forum where highly reputed speakers from important European industrial, trading and service companies can portray trends and strategies in the European logistics sector as well as best practice, and to use the resulting insights as a basis for formulating specific recommendations for the day-to-day work of the congress attendants,
EUROLOG is held at changing venues in major European cities;  EUROLOG is also the setting for the ELA Research Conference – a one-day event providing a neutral platform for the multilateral exchange of ideas between European experts and pursuing the same goal as EUROLOG.
Who can apply
Only Full Member organisations of the European Logistics Association can apply to organise the Eurolog. It is up to them to decide how and when they will organise the event, with or without an agency.
Next locations
To be announced.